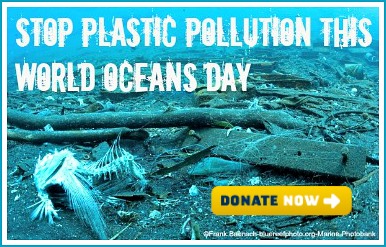 It's really astounding when you stop to think about it. We're consuming plastic in the millions of tonnes each year. It's hard to picture the scale of impact. If you imagine thousands of plastic water bottles we consume each second – it's only a fraction.
Today, on World Oceans Day, can you help us turn the tide on plastic and other dangerous marine debris by making a gift?
Our obsession with plastic comes with a cost – to our health, our economy and our ocean planet. Annual plastic production has boomed from 1.7 million tonnes in 1950 to 300 million today and the environmental damage alone costs us US $13 billion.
Despite being designed to throw away, plastic does not disappear. Single use items like plastic bags and bottles end up in the ocean where they suffocate and entangle anything in their wake. Dolphins, sea turtles, seals – even the fish we eat are under threat.

Yet few understand the devastating impacts of marine debris better than scuba divers. Dive volunteers are equipped to lead the fight from beneath the surface where our trash travels, smothers and pollutes – remaining out of public view.

That's why Project AWARE created Dive Against Debris, a global program enlisting scuba divers as citizen scientists to combat underwater litter anytime, anywhere. We're enlisting scuba divers as citizen scientists to combat underwater litter. Together we're removing deadly underwater trash and reporting critical data to visualize the problem and stop it at its source.

To maximize our strategy we need to empower more divers to remove and report debris. We need technology to support our underwater actions and we need to involve industry and policymakers in solving the debris crisis.

But we can only do this with your support. Give today. We'll send you a reusable Project AWARE bag to support your own local actions against trash and as a thank you for joining the battle.*

Thank you for your support,

Kind regards,

Tiffany Leite
Director, Global Operations

P.S. Did you know plastic is the #1 type of trash found underwater? From plastic bags and bottles to fishing line, 64% of data reported through Project AWARE's Dive Against Debris is plastic. Help us continue the fight against marine debris by giving today.

*while stocks last – donations over $25/€20/£15
https://netdonor.net/ea-action/action?ea.client.id=1712&ea.campaign.id=12718